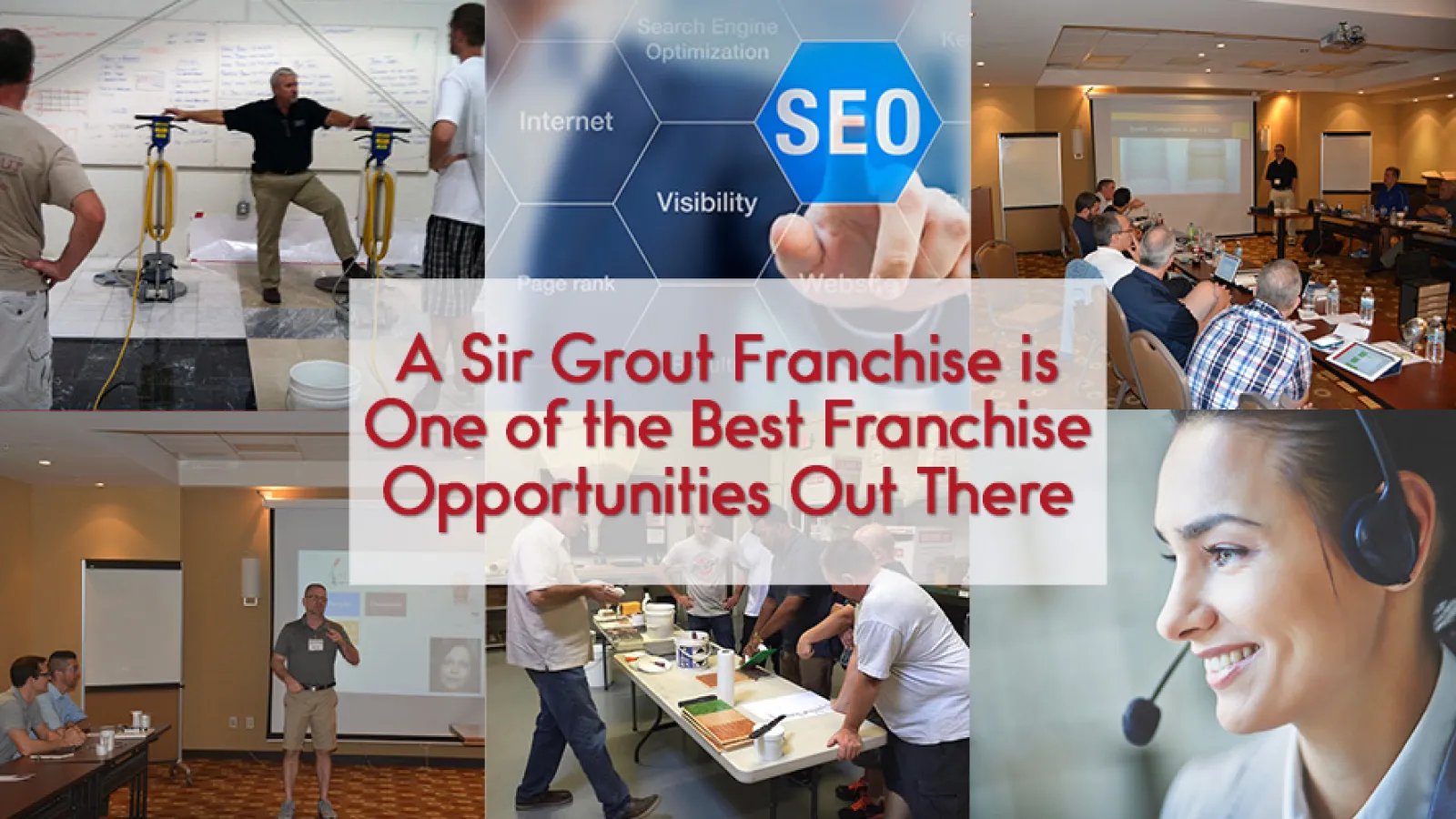 Why a Sir Grout Franchise is a Good Choice
For a lot of people, being in business for themselves and being in charge of their destiny is part of chasing new adventures and pursuing something they've always wanted to do. Owning your own business and being your own boss can be extremely rewarding, but how do you choose the right franchise opportunity for you? The good news is, a Sir Grout franchise is one of the best franchise opportunities out there. Let us show you why a Sir Grout franchise is a good choice.
Since 2009, Sir Grout has been recognized as one of the leading home improvement franchises for 8 years in a row by Entrepreneur Magazine. This is a comprehensive and well-respected ranking list of top franchise opportunities. The Franchise 500 rankings are compiled by comparing nearly 900 franchises. Being listed on such a prestigious list is something Sir Grout is proud of. What are some reasons a Sir Grout franchise has made this list so often?
When you consider buying a franchise, there are a lot of factors to consider. One of those factors is the viability of the business itself. When you buy a Sir Grout franchise, you're really getting the most bang for your buck. Buying a Sir Grout franchise is like buying five franchises at once. Your Sir Grout franchise will offer a range of hard surface restoration services, including tile and grout restoration, stone restoration, no sanding wood floor restoration, slip resistant applications and high durability coatings. This means you will offer services that are always in demand, both for residential and commercial clients, offering you a great return on investment (ROI). There's no better assurance that you are buying a franchise that will provide you with financial security and a great future.
Another important factor when you purchase a franchise is brand recognition. The Sir Grout name is widely recognized as a leader in the hard surface restoration industry. Sir Grout has built a reputation on quality work and superior customer care, which means customers in need of hard surface restoration turn to Sir Grout for those services. This gives you a loyal customer base to support your business, both in the commercial and residential sectors. Sir Grout lives up to its reputation by providing customers with the level of service they have come to expect, and as a part of the Sir Grout family, you will reap the benefits of being attached to the Sir Grout name.
Sir Grout is with our franchisees every step of the way. We start our franchise owners with extensive training. Whether you come to a Sir Grout franchise with experience in the hard surface restoration or not, the training you receive from Sir Grout will certify you as an expert in the field. When you purchase a Sir Grout franchise, you'll get training in six very specific areas:
Grout & Tile, No Sanding Wood Restoration, Slip Resistance Applications
‐ We give you about 20 hours of comprehensive technical training on grout and tile restoration, no sanding wood floor restoration and slip resistance applications. During this training, you will learn how to use several machines, tools, and chemicals to clean and restore tile and grout to its former beauty. You'll have the confidence to walk into any tile and grout job, assess the situation, and propose and carry out the necessary steps to take care of customer tile and grout needs. There is also about one hour of slip resistance training that covers how to apply the slip resistance product, how it works and what surfaces it can be used on. Training in no sanding wood restoration covers how to test a surface, how to identify good candidates for the process, how to prepare a floor for the process, and how to apply the finish. We also discuss different types of wood floors and their characteristic.
Stone Restoration
‐ We give you approximately 45 hours of intensive stone restoration training. You'll learn about various stones and their characteristics. We will show you how to best restore and maintain them. This is the meat and potatoes of a Sir Grout franchise and we give you the necessary tools and training to give you confidence.
High Durability Coatings
- As a Sir Grout franchise owner, you will also receive specialized training in our Microguard high durability coatings. This product was originally designed by NASA's former head of coatings and made to withstand the extreme conditions in space. Here you'll learn how to apply this product to the surfaces where it can be used. This module lasts two and a half days and covers OSHA safety procedures, understanding the types of surfaces that can be coated, how to prepare a surface for a high durability coating, proper mixing and application, and how to troubleshoot any situation that arises in the field.
Sales & Operations
‐ You'll get around 20 hours of sales and operations training that teaches you Sir Grout's proprietary sales methodology, how to use our software system, and how to implement all of the tools you'll need to make your franchise successful.
Online Support, Learning and Support System
On the back end of our training and support system for Sir Grout is excellent online support. We will provide you with phone support 7 days a week to answer any technical and operational questions you have. This is just another way to show you Sir Grout always has your back. We also provide online support that lets you access training information, read the latest news and information regarding Sir Grout franchises, and the opportunity to download the latest marketing pieces. This is really an excellent way to keep up to date on everything you need to in order to do to run your Sir Grout franchise.
All in One Digital Marketing
Sir Grout also provides customers with an online presence that includes individual professional websites for Sir Grout franchise owners. Each of these websites is optimized for SEO and designed to make your franchise easy to find when customers are looking for professional hard surface restoration services. In addition to SEO, each local franchise receives local email marketing, Pay per click management for Google and Bing, local map visibility, and Geo-targeted keywords for customers looking for a local business.
Sir Grout Call Center
Organizing can be a nightmare, but you have access to the Sir Grout Business Center, which handles your phone calls, sets your appointments, and follows up on all your leads for you, which increases your sales while letting you focus on getting the jobs done for your customers. This is an invaluable tool that can't be understated. The business center, in conjunction with our online scheduling system, will provide you with the most powerful tools available to you as a Sir Grout franchise owner.
As you can see, a Sir Grout franchise has many benefits that make it stand out over other franchise opportunities. Sir Grout brand recognition, our commitment to customers and to franchise owners, our superior products and methods, and our extensive digital marketing package make Sir Grout a great choice. To learn more,
click here to speak to us about franchising
and get you started with a Sir Grout franchise today. Make 2019 the year you make your dream of being a business owner come true.
If you found this article helpful, let us know in the comments section below. Likewise, feel free to share it using the share options in this page. Want us to cover another topic of your interest pertaining to Sir Grout Franchising? If so, then like us and follow us on social media, and post to any of our social media profiles the topic you'd like us to discuss:
Facebook Sir Grout Franchising
,
Instagram @SGFranchising
, and
Twitter @SGFranchising
.