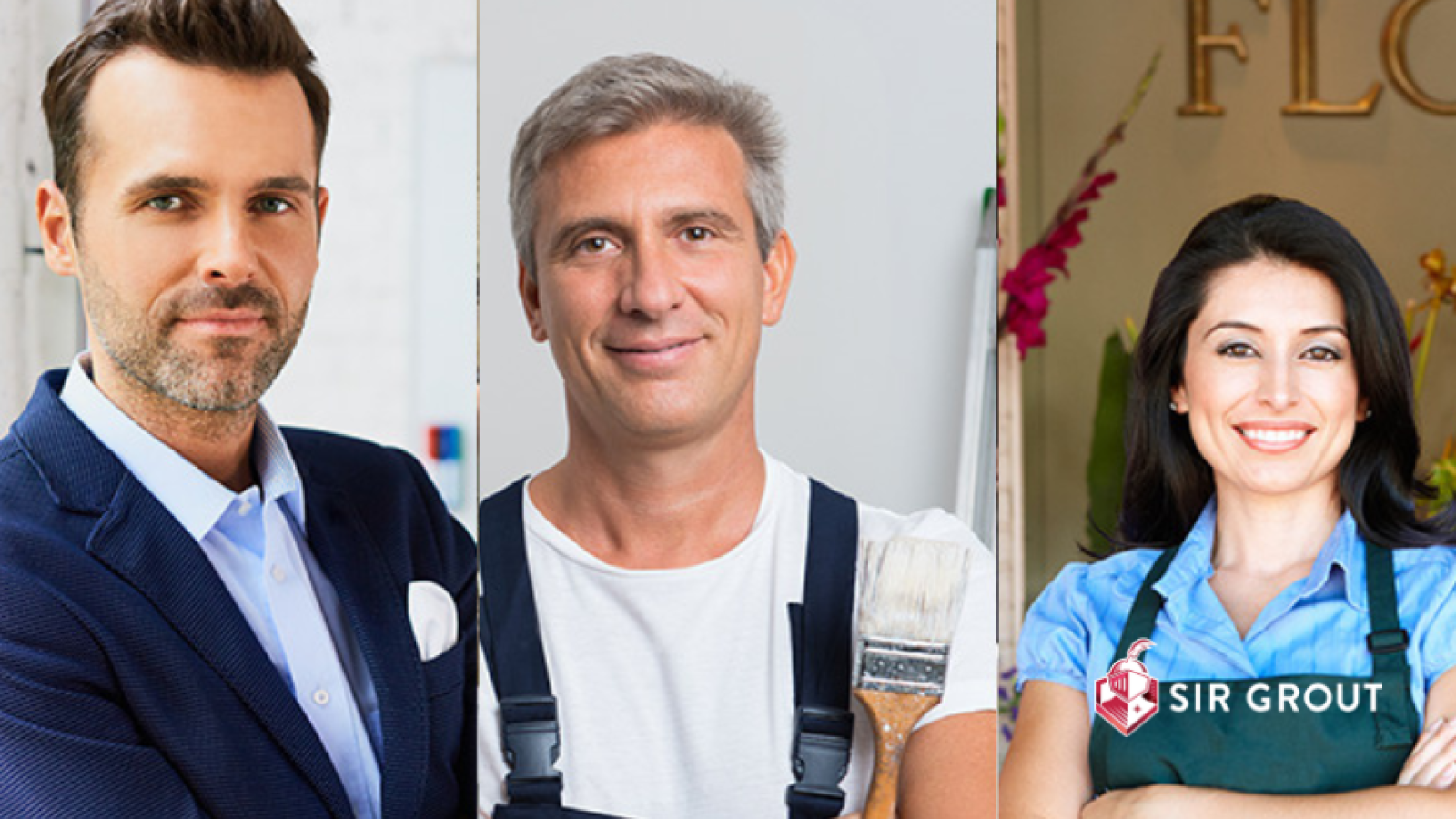 No Hard Surface Restoration Experience Required to Own a Sir Grout Franchise
A Sir Grout franchise is a great business opportunity for many reasons.
A lot of people want to start a business because they want to set their own hours, be their own boss, and live the kind of lifestyle that being your own boss can provide. Some potential Sir Grout franchise owners might be hesitant to purchase a Sir Grout franchise because they don't have the experience they believe is necessary to own a successful hard surface restoration business. The truth is, you don't need to know anything about hard surface restoration to become a Sir Grout franchise owner. You don't even need to get your hands "dirty" as a franchise owner.
Sir Grout franchise owners come from all walks of life and from many different areas of expertise. We have Sir Grout franchise owners who were top executives with companies like IBM, Honeywell, and Mattel. Some of our franchise owners have business or finance experience and customer service experience while others have food-related experience or general labor backgrounds. Whatever your background, you can always find a way to apply your skills to a Sir Grout franchise.
Sir Grout Training Makes You an Expert
Regardless of where you come from, once you have invested your future into a Sir Grout franchise, we will make you an expert in hard surface restoration. You'll receive extensive training in important areas of the hard surface restoration business that includes:
Grout & Tile, lip Resistance Applications
Stone Restoration
High-Durability Coatings
Sales & Operations
Even more, with your Sir Grout franchise you get All-in-One Digital marketing to help you reach the widest customer base possible and a Call Center that handles your phone calls, sets appointments, and sends email confirmations to follow up with the client's appointments.


Build a Strong Team of Technicians with Sir Grout
As a Sir Grout owner, you could even continue in your current career while watching your Sir Grout business grow. With the training you receive when you buy your Sir Grout franchise, you will have the skills and knowledge to manage a team of technicians to do the work in the field, all while managing your business from the office or even from home. The flexibility of a Sir Grout franchise allows you to participate in your franchise on any level you desire. Maybe you want to handle the operations from the phone, keeping in touch with your techs during each job. You might want to be free to visit job sites randomly to observe. Maybe you want to get hands-on from time to time. You can operate your Sir Grout franchise to suit your schedule

All Sir Grout technicians are highly skilled and can handle jobs in the field while you, as a Sir Grout owner, take care of the logistics. You can even manage operations while working on another job. That's what makes a Sir Grout franchise so attractive to so many people from other industries or with no hard surface restoration background.


Sir Grout Franchises Provide Opportunity for Growth
As a leading
hard surface restoration franchise
, Sir Grout offers plenty of growth potential. A lot of franchise owners begin with a single Sir Grout franchise and decide to open more than one location. The freedom to manage rather than do the jobs yourself means you have more time to oversee several Sir Grout franchises, which means you can increase your revenue stream immensely. When you own more than one Sir Grout franchise, you can very quickly position yourself for a financially rewarding future.
Sir Grout makes it easy for franchise owners to grow. Owning one Sir Grout franchise is like owning five franchises in one. In fact, Sir Grout is the first ho service franchise to offer grout and tile restoration, stone restoration, no sanding wood floor restoration, slip resistant applications, and high durability coatings to both residential and commercial customers. This means you are involved with a franchise that always has something to offer to customers, making a Sir Grout franchise ideal for building a successful future as a business owner and a perfect way to get a huge return on investment.

Are you ready to become a business owner? Do you want to be the one to determine your level of involvement in your business? Take advantage of the flexibility that comes along with a Sir Grout franchise. When you are ready to decide what your future will look like, request information on owning a Sir Grout franchise today and we can show you the different ways you can operate it as a manager rather than a technician.

Interested in becoming a franchisee and joining Sir Grout's big family? Contact a franchise specialist by filling out the form below to learn more.