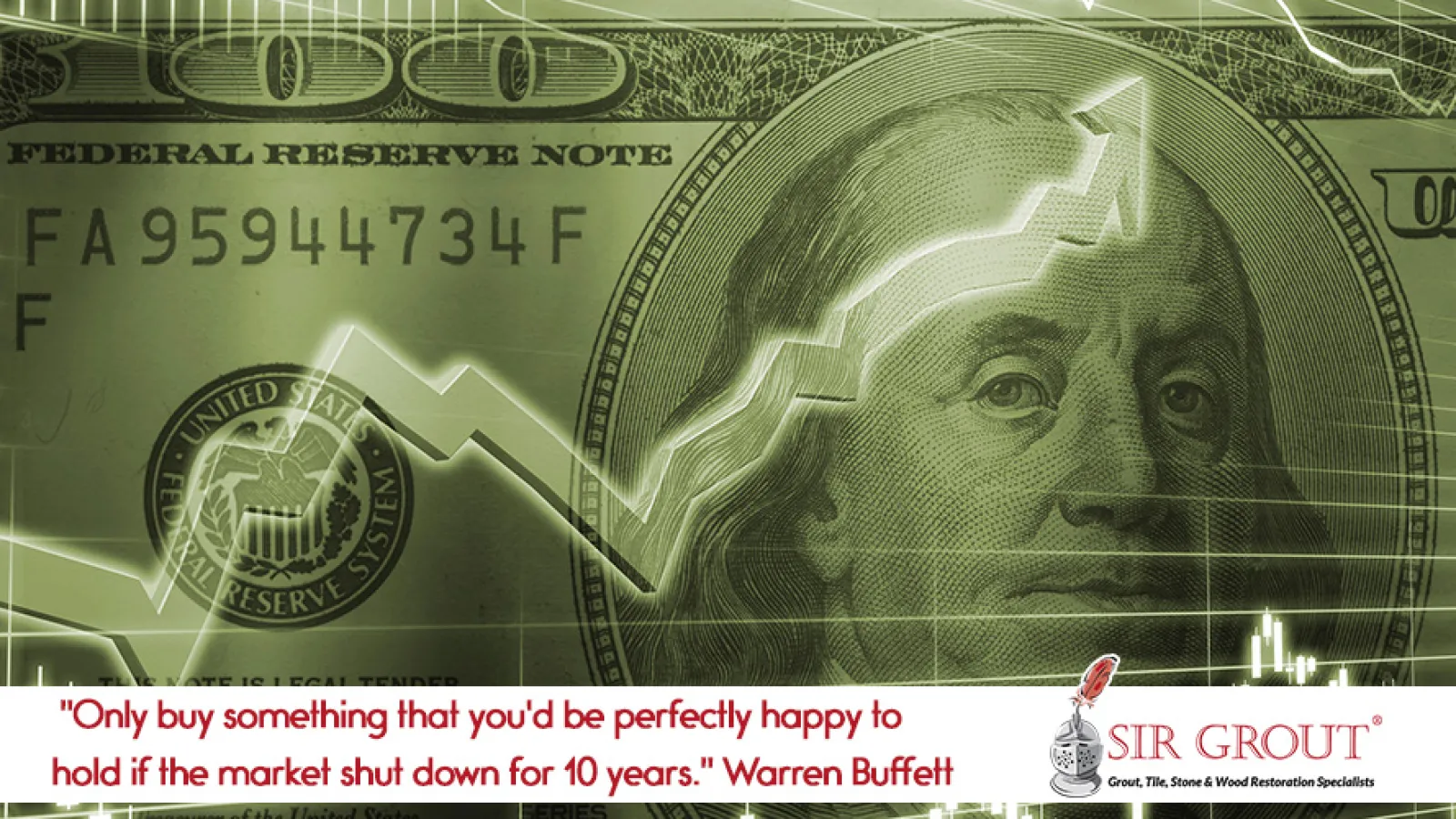 Per Warren Buffett's Definition of a Successful Business, A Sir Grout Franchise is a Wise Investment
Investing is always the best option to make your money grow at a faster rate than it would in a savings account. It does carry some risks, but in the long term, if done correctly, it will give you a much higher return. Mastering the stock market can seem intimidating, especially if you are just starting out, but one shortcut is to learn from one of the wealthiest people in the world: Warren Buffett, AKA the "Wizard of Omaha".
Warren Buffett's Secrets to Success
One of Buffett's secrets to success is buying into well-known businesses that are easy to understand and will generate profits for a long time to come, like brick, insulation, carpet, and paint manufacturers. They may not be "the next big thing" nor follow the market's expectation, but they will always be needed, according to
The Motley Fool
. When Buffett invests in a company, he is more concerned with whether the company can make money as a business than if the market will recognize its worth.
Quote via Lifehack.org
With regards to franchises, Buffett states that a perfect franchise arises from a desired product or service that has no close substitute in the customer's eyes, is not subject to price regulation, and has "wide moats", which means that they have strong competitive advantages. The stronger the competitive advantages the company has, the more difficult for its competitors to take away market share from that company.
Quote via Cheatsheet.com
Last but not least, for Buffett, it is important to have outstanding operating managers and not fortuitous industry economics. This is extremely important since inept managers can diminish the franchise's profitability and even its reputation.
Warren Buffett in his 2001 letter to Berkshire Hathaway shareholders
With that being said, following the business principles laid down by Warren Buffett, one of the world's most successful investors, one should consider investing in a tile and grout business that will be around for the next 50 years or more, like Sir Grout.
What Makes a Sir Grout Franchise a Wise Investment?
Sir Grout is a nationally-branded franchise leader in grout and tile cleaning and restoration, stone cleaning and restoration, and wood cleaning and restoration. Sir Grout has 35 franchise locations in 16 states. One of the reasons that makes this franchise an excellent choice is the fact that it is a type of business that provides a high demand service. Tile and grout is one of the most commonly used building materials. Who doesn't have tile and grout, stone, or wood surfaces in their home or business? These materials constantly need to be taken care of!
Sir Grout is also a franchise with strong competitive advantages that clearly differentiate it from other tile and grout cleaning companies. Sir Grout offers grout and tile restoration, stone restoration, no sanding wood floor restoration, slip-resistant applications, and High Durability Coatings services. It is like owning five franchises in one. The company doesn't just clean your tile, grout, and stone, they restore them to make hard surfaces look even better than new. These type of services cannot be outsourced overseas, nor can they be outsourced to the Internet. People will always need them.
Secondly, Sir Grout provides exceptional customer service and offers their clients a written warranty. The company always stands behind their work, in such a way that if they don't deliver what they promised, they will come back and make it right! Every franchise is centered on satisfying their customer's needs with excellent service and attention, in fact, many of them have received the Super Service Award from Angie's List for their superior levels of customer service.
Finally, Sir Grout trains great professionals that know their business and that strive to satisfy their customers by offering them unique services and state-of-the-art products. Each team is driven by successful experts, and they award those who have driven Sir Grout's core values to a new level at their Annual meetings. Sir Grout has had such good results that they have been recognized in Entrepreneur Magazine's Franchise 500 list for five consecutive years.
Does this sound like a franchise you will invest in? Becoming a Sir Grout franchise owner has many benefits! You will have the satisfaction of being your own boss, you will be part of a franchise that is recognized by its achievements such as Angie's List's Super Service Award and Entrepreneur Magazine's Franchise 500 List, and you will be guided by successful leaders. To learn more about the
Sir Grout Franchise
model and unparalleled services, visit Sir Grout. Become part of Sir Grout's successful family!