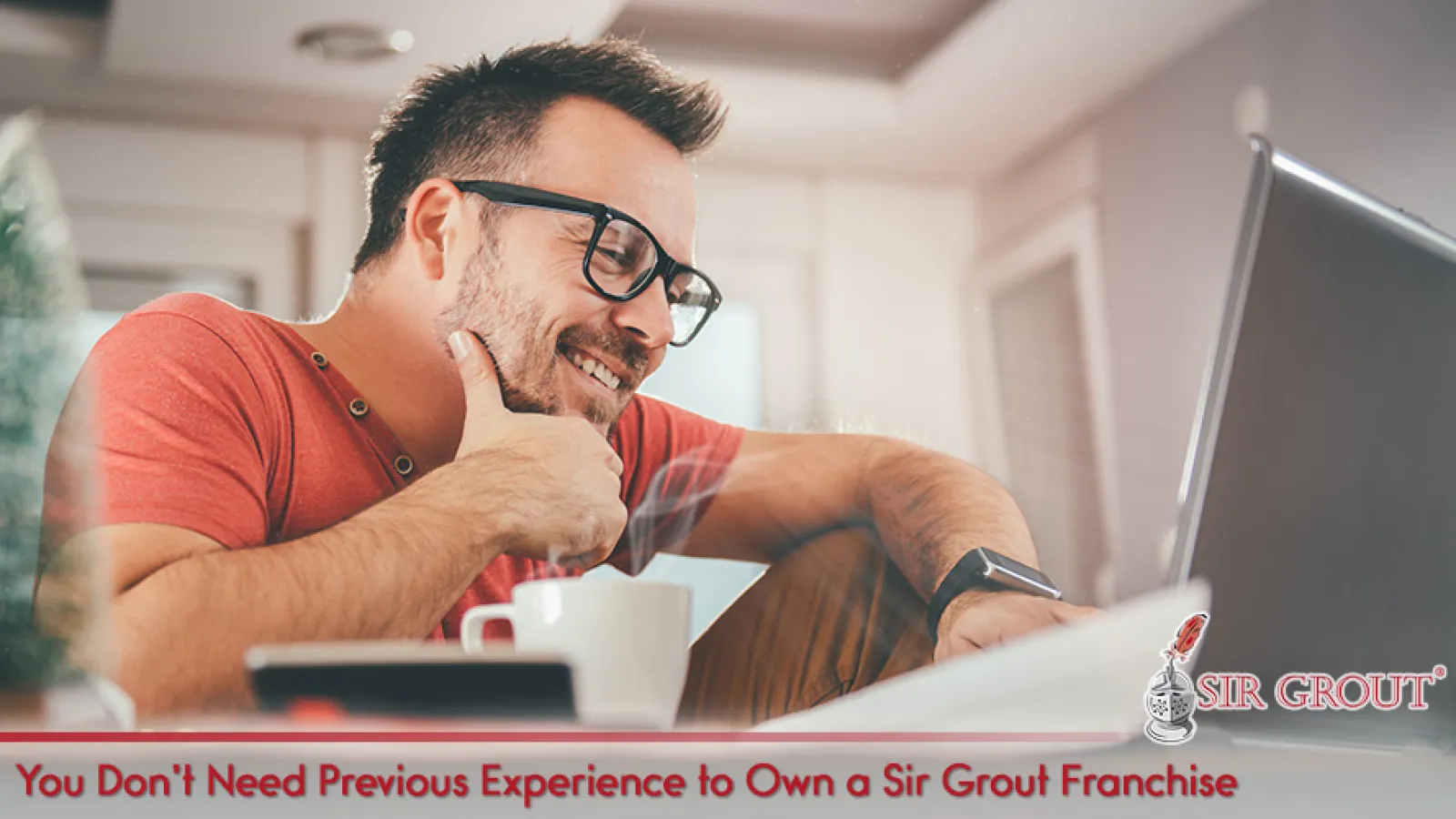 Do I Need to be a Contractor or Hard Surface Expert to Own a Sir Grout Franchise?
Owning a business of our own is one of the big American Dreams. Who doesn't want to be their own boss, set their own future, and be a success doing something they love? Nothing can compare to having your own successful business, and in this day and age, there are plenty of opportunities to make that happen.
That's because the franchise business is becoming more accessible and offers many great rewards for anyone who has the desire to take charge of their future and build something they can rely on for financial security. A Sir Grout franchise is exactly that kind of franchise opportunity.
When looking for a franchise opportunity, many people feel like they need to find a franchise that fits within their wheelhouse. After all, how can you operate a business you know nothing about? This might be true in some cases, but it's not always the case. If you're asking yourself, do I need to be a contractor or hard surface expert to own a Sir Grout Franchise? The simple answer is no. You absolutely do not need to be a contractor or a hard surface expert to own and operate a Sir Grout franchise. Sir Grout has a very thorough training program that will show you everything you need to know about your Sir Grout franchise.
What's in a Sir Grout Training Program?
The Sir Grout training process is broken into three major components:
Tile and Grout:

You will receive about 20 hours of comprehensive technical training on grout and tile restoration, our no sanding wood restoration process, and slip resistance. During this training, you will also learn to use several machines, tools, and chemicals necessary to clean, restore, and repair tile and grout to make it look new again. This is a core part of a Sir Grout franchise and you'll get the hands-on training you need to feel confident in the services and products you'll be offering.




Sales & Operations:

You will get about 20 hours of sales and operations training where you learn Sir Grout's proprietary sales methodology, how to use our software system, and how to use and understand all of the tools you'll need to successfully operate your Sir Grout franchise. You'll fully understand the business from an operational standpoint after you've completed this training.



Stone Restoration:

Here's where you get that extensive professional training you'll need to become the expert you want to be. We give you about 45 hours of intensive stone training. Even if you know nothing about this field, you will come away from this training with plenty of experience and the ability to do the work. We'll teach you about various different types of stone and how to restore and maintain them. This will be invaluable to you when you begin your journey as a Sir Grout franchise owner.
So, as you can see, the answer to the original question, "do I need to be a contractor or hard surface restoration expert to own a Sir Grout franchise?" is no because we will give you all the training you need before you get started. It isn't necessary to have ever done anything in the field of hard surface restoration to start a Sir Grout franchise business. By the time you complete our training, you will be an expert in the field of hard surface restoration.
Why Buy a Sir Grout Franchise?
You already know the training you will receive from Sir Grout is designed to give you the skills and knowledge you need to help you build a successful career in the hard surface restoration business. Another reason for buying a Sir grout franchise is that you're buying into a business that is recognized as a leader in the hard surface restoration industry.
The Sir Grout name is a brand that is recognized and has a built-in customer base, both in the residential and commercial sectors. This means you will have the advantage of starting with a great quantity of potential customers who have been waiting and are ready to use your services. That means a great business that offers the potential for great success. This is what you can count on with a Sir Grout franchise.
Another great reason to invest in your future by investing in a Sir Grout franchise is that you will be getting a completely turnkey business. We provide everything you need to begin your successful journey from day one. Not only will you get the extensive training we've discussed already, you will also get access to our exclusive Sir grout products, our superior tools, and our tested methods of operation. You'll be able to start your business right away, with everything you need in place.
Buying a Sir Grout franchise is like buying several franchises. In fact, when buying a Sir Grout Franchise, you get many different revenue streams:
Grout and Tile Restoration
Stone Restoration
No Sanding Wood Restoration Process
Slip-Resistant Applications
High Durability Coatings
All of the advantages of a Sir Grout mean you can expect a higher return on investment (ROI). In other words, you have the opportunity to finally make your dream of being a successful business owner a reality.
Are you ready to get started in a
hard surface restoration franchise
with a company that gives you the best chance for success? If so, let Sir Grout be your choice. Our extensive training, quality products, and proven operations mean you can find the success you desire in the hard surface restoration business, whether you have any prior experience or not. Let Sir Grout show you how.
If you found this article helpful, let us know in the comments section below. Likewise, feel free to share it using the share options in this page. Want us to cover another topic of your interest pertaining to Sir Grout Franchising? If so, then like us and follow us on social media, and post to any of our social media profiles the topic you'd like us to discuss:
Facebook Sir Grout Franchising
,
Instagram @SGFranchising
, and
Twitter @SGFranchising
.