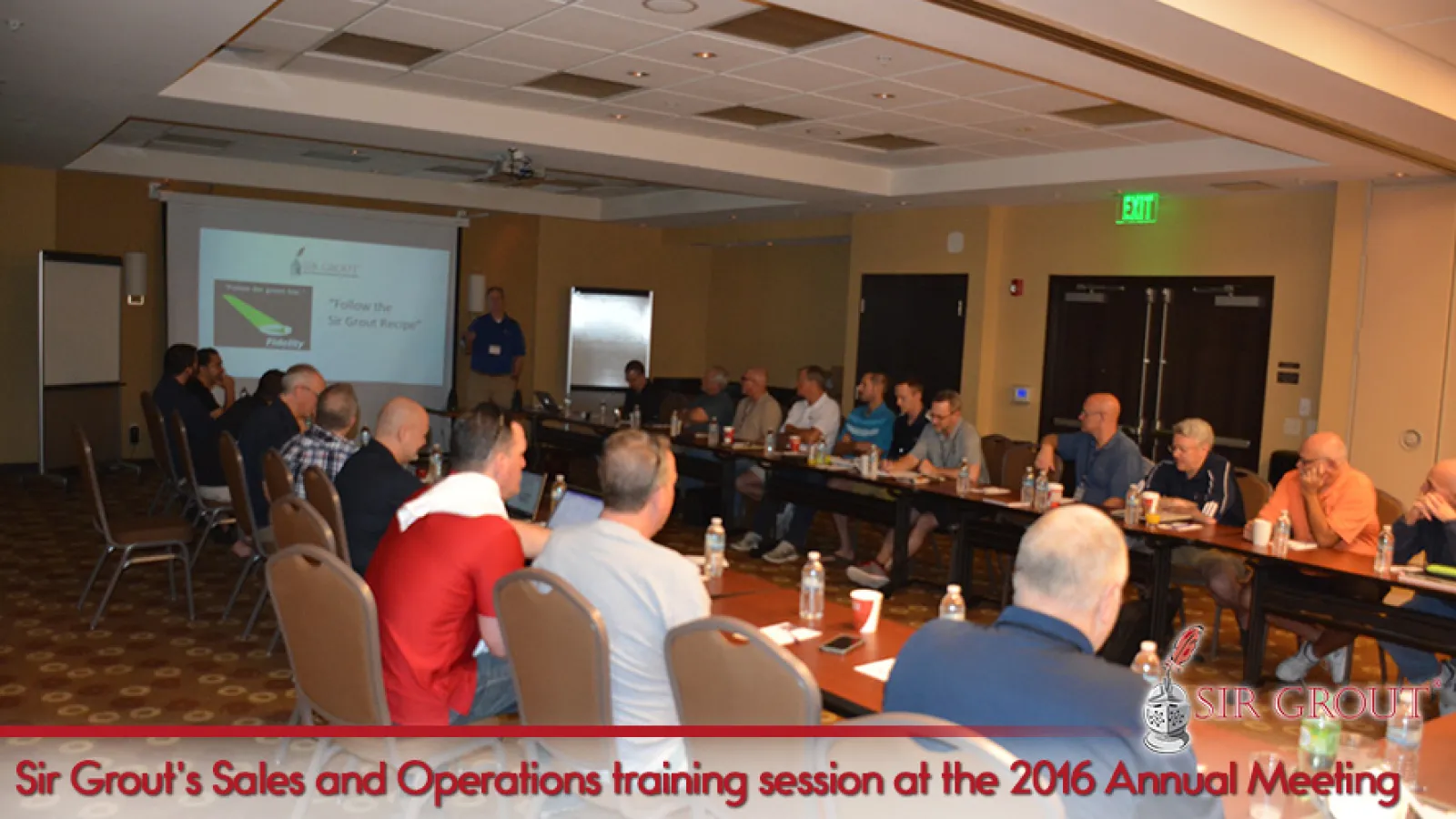 Our Franchise Training and Support Provides You Everything to Run a Successful Sir Grout Franchise
One of the biggest advantages of owning a franchise is that you acquire the know-how to succeed. You get extensive details on how to do business, problems you can encounter, and how to overcome them. You also have name recognition and branding, and most importantly, you will receive training and support with proven methods that will allow you and your staff to reach a high-performance level quickly and efficiently. With the adequate
training and support system
, your businesses success is guaranteed. Despite this, not all franchises offer great training and support.
Sir Grout's franchising opportunities offer a proven, repeatable plan and unparalleled franchise training and support. With our training and support system, you will have the knowledge, assistance, and everything you need to run a successful franchise. Sir Grout knows they are the best in the business and strive to offer top quality work and unparalleled training, including a support system and a business center. You'll have everything you need to succeed in the palm of your hand. The Sir Grout franchise training system has three components:
Grout and Tile Training
With grout and tile training, our entrepreneurs will have all the technical knowledge and skills to run the business. This training covers everything from the machinery to the chemicals necessary to restore old or stained tile and grout to a pristine condition.
Sales and Operations
The sales and operations training gives franchise owners information about sales practices, software, and other tools that will ensure your success.
Stone Restoration
The stone restoration training educates the owner on stone surfaces and proper restoration and maintenance methods.
The training is hands-on, so the franchise owner will learn by putting everything into practice. Sir Grout also has a phone support system for technical and operational questions and an online learning and training support system with updates, news, and relevant downloads. As if this wasn't enough, Sir Grout also has a business center that handles all your phone calls, appointments, and provides you an online scheduling system.
Sir Grout's franchise training, support system, and business center will make your life a lot easier. However, we know that as easy as it can be, reinforcement and motivation is always needed. Well, guess what? Sir Grout has you covered.
Sir Grout's franchises gather every year to hold training sessions, learn from other colleagues, and hold an award ceremony with prizes for their franchises. Some of the categories for the prizes include "Million Dollar Club," "Rookie of the Year," "Teamwork," "Above and Beyond," "Most Improved," "Grout Man of the Year," and "Renewal of the Year". But everything can't be about work. That's why they also get together to have a family dinner and even play golf.
Awards are good motivation, and as proof of Sir Grout's success, Sir Grout has been selected for
Entrepreneur Magazine's Franchise 500 list
for six years in a row, and several of their franchises have earned the
Angie's List Super Service Award
and
Dale Cardwell's TrustDale
Certification and Make It Right Guarantee, which demonstrate the company's commitment to provide superior customer service.
Does this sound like something you'd like to be a part of? Sir Grout is always looking to expand its team by adding new franchises in an increasing number of locations. Feel free to contact us by filling out this
contact
form to speak to one of our franchise experts. You'll get the satisfaction of being your own boss and the owner of one of the most successful franchises in the hard surface industry. Learn more about what you can gain by taking advantage of this amazing
franchise opportunity
.