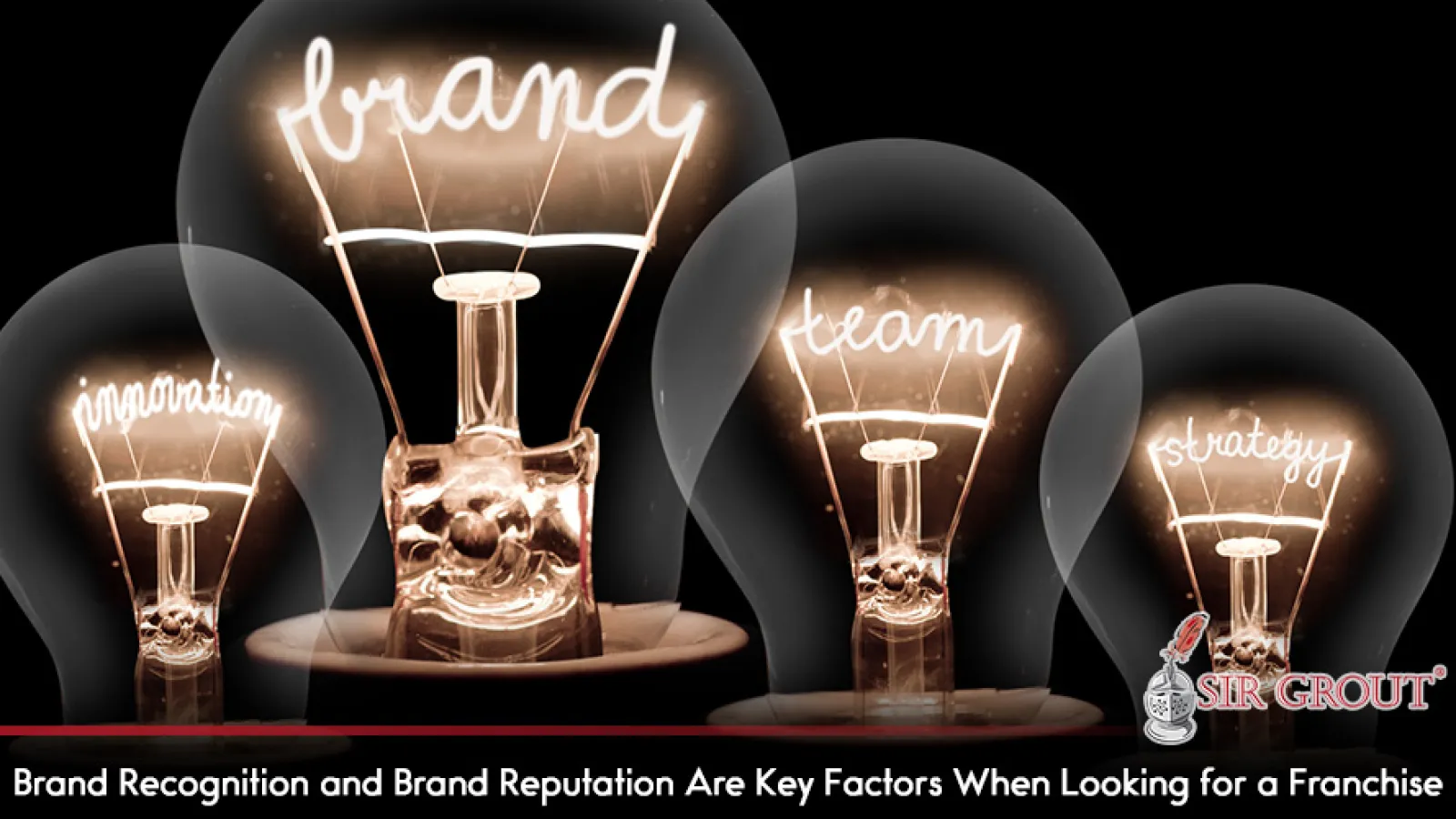 The Importance of the Sir Grout Brand to Your Franchise Success
Becoming a franchise owner can be one of the most rewarding experiences you can have in your life. Financial freedom, being your own boss, and enjoying a career doing something you enjoy for a living is something that many Americans dream about. Today, with so many franchise opportunities available, finding a franchise to buy isn't the difficult part. There is a franchise in just about any industry you can imagine. In fact, there are over 3,000 franchises in the U.S. alone, meaning there is something for everybody, regardless of your skill set or your ambitions in life. The difficult part is finding the best franchise opportunity for you.
There are a lot of considerations when you're looking for a franchise. One of the biggest of those considerations is brand recognition and brand reputation. Brand recognition and brand reputation are two sides of the same coin. Both are equally important.
What is Brand Recognition?
Brand recognition is recognizing a brand, not just by the name, but by packaging, by what a company does, by the way the company presents itself to consumers, etc. If, for example, you wanted to buy a hamburger franchise, would you buy Joe's Burgers or McDonald's? You would probably buy McDonald's. Why? Because of its brand. Both of these companies have a customer base, recipes for their products, operational, customer service, and marketing infrastructures, but McDonald's has much better brand recognition, and that is what you would be buying.
This transfers over to consumers as well. When consumers see the McDonald's name, they know what they are getting and that's the product they look for. The brand recognition has been cultivated for generations, both through the quality of the product and in the way the product has been presented to the public.
This is the way it is with Sir Grout. Sir Grout is recognized as a leader in the hard surface restoration industry. We are recognized not only for our expertise in hard surface restoration, but for the quality of our products, our processes, and our customer service and satisfaction. When you buy a Sir Grout franchise, you are getting expert training, access to our exclusive products, processes, and to a support team that will help you achieve success as a business owner. But it doesn't just stop there. You're also getting a customer base that recognizes the Sir Grout brand and trusts us to provide the best hard surface restoration services available. This brand recognition ensures that you as a Sir Grout franchise owner will be part of a franchise that consumers will turn to whenever they need tile and grout services, stone services, hard surface restorations, and maintenance.
What is Brand Reputation?
Brand reputation is the way consumers perceive a company. You can have great brand recognition and have poor brand reputation. Customer complaints, poor customer service, failure to deliver as promised—these are all contributors to poor brand reputation. Having a bad reputation, particularly in the age of the Internet, can be death to a business of any kind. Word travels fast. Twitter, Facebook, and other social web sites are superhighways that carry information fast. That's why at Sir Grout, our reputation is stellar. We take care to cultivate and build our brand in a positive way, so when you purchase a Sir Grout franchise, you are buying positive brand recognition and brand reputation. Consumers trust Sir Grout to deliver quality results using superior products and tested methods. We deliver what we promise, we take the time to teach customers how to maintain the work we do for them, and we make every effort to save our customers money. These are the things that contribute to building consumer trust and a good reputation.
Great Brand Recognition Combined with a Great Brand Reputation
The importance of the Sir Grout brand to your franchise cannot be overstated. When you combine the positive brand recognition Sir Grout has as leaders in the hard surface restoration industry with the stellar reputation our Sir Grout franchise owners cultivate throughout the U.S., you have the foundation for a successful franchise business.
The positive brand recognition and reputation Sir Grout has means that consumers will turn to you when they need hard surface restoration services, stone services, or tile and grout services. That's because the Sir Grout name means expert hard surface restoration consumers can count on. That means the Sir Grout brand translates to customers and repeat customers, making Sir Grout one of the best choices you can make when you're looking for a franchise you can build a solid future with.
Are you ready to partner with a brand you can count on for success? If so, Sir Grout is the right choice. To learn more,
click here to speak to the Sir Grout founders
who can get you started with a Sir Grout franchise today. Find out more about how Sir Grout can be your key to success and let our brand be your brand.
If you found this article helpful, let us know in the comments section below. Likewise, feel free to share it using the share options in this page. Want us to cover another topic of your interest pertaining to Sir Grout Franchising? If so, then like us and follow us on social media, and post to any of our social media profiles the topic you'd like us to discuss:
Facebook Sir Grout Franchising
,
Instagram @SGFranchising
, and
Twitter @SGFranchising
.