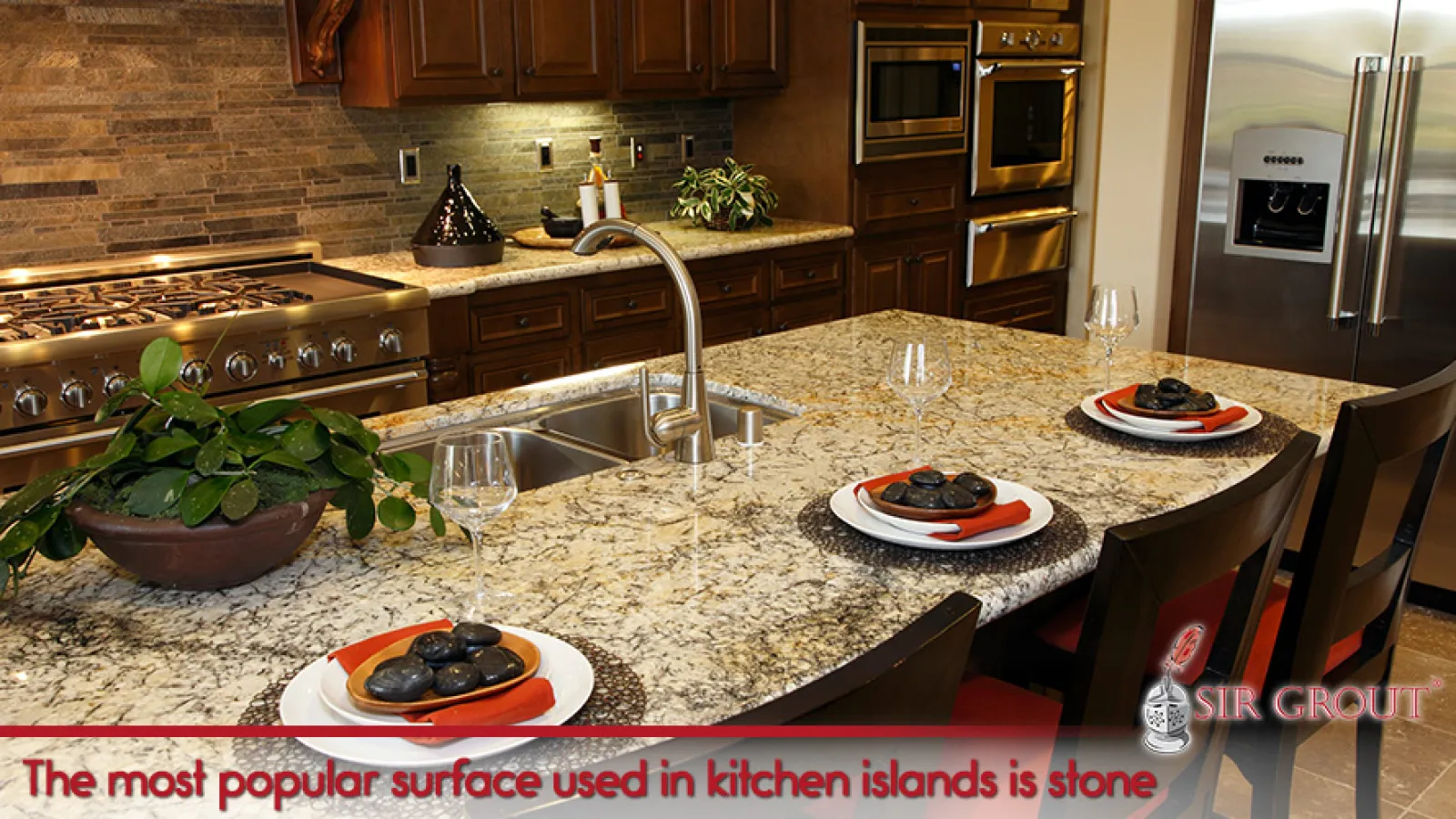 How to Take Advantage of the Kitchen Island Design Trend by Joining Sir Grout
Kitchens have become the perfect place to gather with family and friends, eat snacks, do homework, and have friendly conversations. Kitchen islands are great when you need additional storage, want more space in you prepping area, or even when you want more seating options. According to a survey held by the Research Institute for Cooking and Kitchen Intelligence (RICKI), projects that include islands are in the greatest demand. In their survey, 80% of kitchen projects included islands, and the most popular surface used in kitchen island projects was stone.
With more than 80% of kitchen projects including islands and 50% of homeowners who prefer marble for their kitchen countertops, followed by 36% who choose quartz, one should expect that hard surface restoration companies like Sir Grout are somewhat busy. There will be thousands of kitchens needing stone restoration services, making it an excellent opportunity to invest in a Sir Grout franchise.
Sir Grout is a company like no other. It offers five business possibilities for the price of one. You will have multiple revenue streams from tile and grout restoration, stone restoration, no sanding wood restoration, slip-resistant applications, and our newest innovation Microguard High Durability Coatings. It has been rated as a top franchise by Entrepreneur Magazine for seven years in a row, and many of their franchises are on Angie's List. This means that Sir Grout stands behind their products and systems and take good care of their customers. This can only be achieved by offering an unsurpassable franchise training and support system, which will provide franchise owners with all the support and knowledge they need to run a successful business.
It doesn't matter if you know nothing about the construction business; our hands-on training will guide you every step of the way. Our training system consists of three components, with the first one teaching you all you need to know to restore worn or stained tile and grout back to its pristine condition.
Our second component will take you through Sir Grout's sales and operations training, where you will learn everything from the best sales practices to the software system and tools you need to succeed with this new investment.
Finally, our third component is all about stone restoration. It teaches new franchise owners everything there is to know about stone surfaces and the proper restoration and maintenance methods. It is the largest component of the training system and lasts about 45 hours, which is convenient since stone surfaces are the second most popular surface used for island projects.
Sir Grout also offers phone and online support and a business center that handles your phone calls, follows up on your web leads, and sets up your appointments. As you can see, Sir Grout has you covered. Sir Grout will be with you every step of the way to ensure you become an efficient and productive franchise owner.
With the Kitchen Island trend and stone being one of the surfaces of choice, there is no doubt that owning a Sir Grout franchise is an excellent business opportunity. It not only offers five franchises in one, which represents multiple revenue streams, but also delivers intensive training, where the longest and most important part of the training is all about stone surfaces.
Does this sound like a franchise you would invest in? To learn more about the
Sir Grout Franchise
, visit Sir Grout Franchise. You can also find us on
Facebook at Sir Grout Franchising
, and follow us on
Twitter @SGFranchising
and
Instagram @SGFranchising
.
Sources:
The Natural Stone Institute
For Residential Pros
Houzz