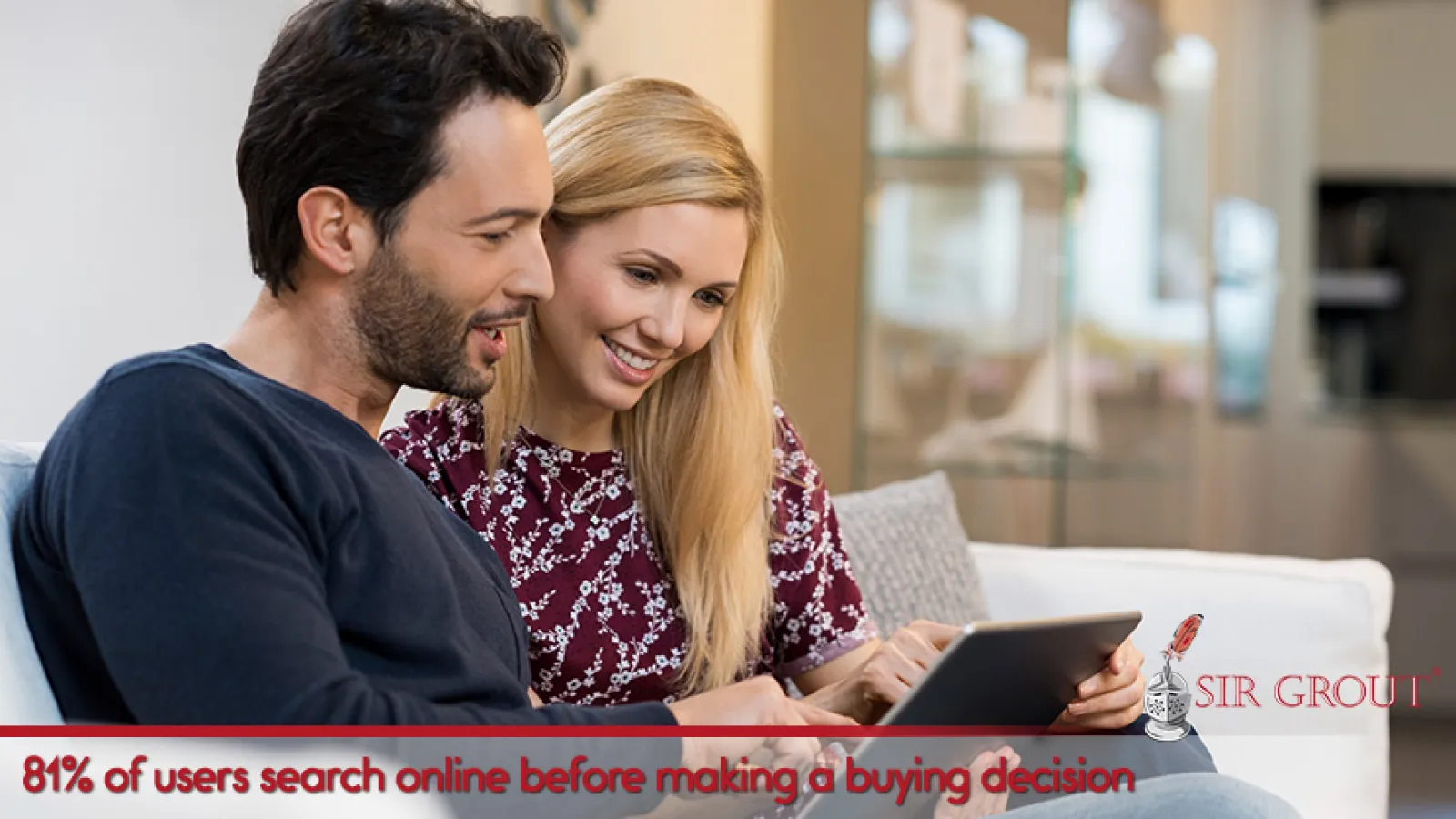 16 Reasons Why a Franchise with an SEO Website Is a Good Strategy for a High ROI
In today's digital age, people perform more than
3.5 billion searches
on Google per day. That's why it's imperative to appear on the first search engine results page (SERP) for your business to succeed. In fact, 96% of people don't even go past that first page of results and
81% of shoppers research online
before even making a purchase.
When you invest in an
SEO website
and implement an effective digital marketing strategy, your business will move up on SERPS. An SEO website will help you organically generate relevant leads and grow your clientele, resulting in higher profits and a relatively quick return on your investment.
A great example of a company that is taking advantage of its digital marketing and SEO websites is Sir Grout. The company and its franchises owe part of their success to their digital marketing efforts. In fact, around 39 percent of their business last year was due to digital marketing. But, what exactly is an SEO website, and what does it have to do with ROI?
SEO stands for search engine optimization. SEO uses techniques that help websites rank higher in organic search engine results, making them more visible to people who are looking for a particular brand, product, or service via search engines like Google, Bing, and Yahoo.
SEO websites are built with all of the necessary components to help search engines understand the products and services you offer. This makes it easier for you to capitalize on the free traffic available via search engines.
Let's take a look at what an SEO website can do for your business, and why you can expect a higher ROI with one:
Higher Rankings on Google and Other Search Engines like Bing and Yahoo

When you have an effective SEO website, users who are already searching for your products or services online will find you quickly and easily, instead of your competitors. This will help you boost sales and grow your business.



Responsive Web Design

A responsive web design allows your website to adapt to any screen size. This means that you won't have to build different versions of your website for tablets, laptops, smartphones, and desktop computers.

Why is that relevant? Because more than 60% of people use mobile devices to browse online. How does all of this improve a site's ranking on search engines? Google has stated that websites that are responsive can rank better, especially on mobile searches.



A responsive website provides a better user experience, and visitors are more likely to stay on your site if it is easier to read. This can reduce your bounce rate, because it allows users to access content from any device in a format they can easily read.


When people use their mobile devices to do an online search, Google can position responsive websites above non-responsive ones, improving your rankings on mobile searches.


All of your content is in one place, instead of having a website for mobile users and another for non-mobile users.
All of these factors can improve your overall ranking on Google search results.
Your Responsive Website Makes It Easier for Users to Shop Online
With 81% of users searching online before making a purchase and a 43% increase in searches on mobile devices, having an SEO website with a responsive design is vital for maximizing users' online shopping experience.
Relevant Lead Generation: Quality vs Quantity
An effective SEO website will not only increase traffic to your website, it will also improve the quality of that traffic. What good is it to have 1,000 visits a day if none of them are actually looking for your product or service?
When a website is optimized for a specific set of keywords, the people who find it are actually looking for your products and/or services, which improves the quality of your traffic and generates more relevant leads. Relevant leads are more likely to result in sales and in turn, increase revenue.
Great User Experience
Overall, user experience "encompasses all aspects of the end-user's interaction with the company, its services, and its products." So, user experience is more than just how your customers feel about your website, but for the sake of simplicity, we're going to limit the topic to web user experience.
Google has repeatedly stressed the fact that the most important factor when ranking a website is its users. Google wants to provide users with relevant, user-friendly content that best matches what they are looking for.
Because SEO websites follow SEO guidelines from the ground up, they naturally provide a great user experience.
They are designed with the user in mind, following a friendly pattern so that visitors can easily find what they're looking for.
They're "easy on the eyes." An effective SEO website will always take visual appeal into consideration. This means that pictures, infographics, slides, videos, and other visual elements are included to help visitors enjoy the experience. It is well known that people process visual elements faster than written information, which is why the use of visual elements is so important on a website.
An effctive SEO website will increase user engagement because it is visually appealing, easy to read, and easy to browse, making your customers stay longerā€"reducing your bounce rateā€"and improving your Google ranking.
Save Money
Because SEO websites are responsive, there is no need to pay web developers to create a different site for mobile devices. This saves you time and money on web development and any additional costs that might derive from hosting services (depending on your hosting provider and its hosting plans).
Staying Ahead of the Competition
There are still a lot of businesses that don't have their websites optimized for search engines. Many of them feel that they already have a solid customer base, SEO is too big of an investment, or that their target market won't look for them online. The likelihood of all these statements being true is very low considering that, as stated above, more than 80% of people use the internet to research products and services before actually making a purchase.
Adopting an SEO website can only work to your advantage because you will stay ahead of the competition.
Staying in Business
Websites that are not search-engine optimized are losing customers and money. By optimizing your website, you are taking advantage of the 81% of users that search for products online.
Reach New Markets
Your business may have a single location, but since your website is on the World Wide Web, there is no reason why you can't expand your horizons. An SEO website will help your potential customers find you. This means that you could find business in places you never thought possible. Your new customers might be in your local coverage area or out of state or even in another country.
Increase Your Brand's Credibility by Moving up on SERPs
People trust Google. In fact, it is the world's most popular search engine. When your site appears on the first page of its search results, people perceive that Google is telling them your company is trustworthy.
An SEO website improves your ranking on these results pages, which is why people will consider your brand to be an authority in your industry.
Users will associate your brand with the keywords you are targeting. When they see your content, they will begin to internalize that association.
Faster Loading Time
Google wants a faster Internet, and one of its SEO guidelines is for load times to be as fast as possible, which is why SEO websites are typically optimized for faster load times.
Social Sharing Growth
An SEO website helps maximize social sharing by including social media share buttons throughout the website. This allows social network users to share your web information to help their network of influence learn about your brand, which will help you get more business.
Social media sharing is easier if your website is attractive to read on a mobile device. After all, most of us connect to our social media platforms on our cell phones.
It Helps You Segment Your Marketing Strategy and Focus Your Efforts on Keywords That Are Relevant to Your Target Market
An SEO website lets you target the keywords your target audience is looking for, which will increase your conversion rates for that keyword, boost sales, and bring in higher profits.
Link Building
Link building is the process of generating links from other sites to your site for the keywords you're targeting. Links are an important part of what search engines use to determine your website's ranking. By increasing the amount of high-quality links to your website, your chances of going up the rankings increase.
Decreased Bounce Rate
If search engines detect a high bounce rate on your site, your site's ranking can decrease, because Google can interpret that as meaning your content is not relevant. One of our franchise SEO goals is to reduce the bounce rate by showing users relevant content.
Digital is the Present
We are living in the digital era. More and more people are going online to perform web searches and access social media.
With an SEO website, it will be easier for people to find you on the internet.
Having an SEO website can give you incredible results. But it is even better if you can combine that SEO with a well-known franchise like Sir Grout that offers services that are always in high demand.
Over the last four years, Sir Grout's digital marketing revenue has increased by 2,000%.
In their first year after switching to an SEO website and implementing an effective digital marketing strategy, their revenue increased by $500K. In year two, that amount doubled, bringing in an additional $1 million. In their third year of implementing true SEO, it surged to a total additional $1.6 million, and in year four, the revenue derived from digital marketing efforts reached $ 2.1 million ā€" all thanks to their optimized websites, content, and digital and social media marketing strategy. Take a look at Tom Lindberg's
testimonial
about their digital marketing strategy.
Sir Grout owes part of its success to its investment in digital marketing, which includes responsive SEO websites for all of its franchises, daily keyword monitoring and targeting, personalized and responsive web design, content generation, social media marketing, email marketing, online reviews, reputation management, web promoter score, ROI Reports, and so much more. These efforts have positioned the company as one of the top-ranking companies for hundreds of thousands of keywords nationally and locally for tile, grout, stone, and wood restoration keywords. Digital marketing has helped them grow their brand, increase demand for their services, and be recognized as a popular go-to company for hard surface restoration in the markets they serve.
Their constant growth as a Franchise brand and the quality of the services they offer helped the company rank in Entrepreneur magazine's Franchise 500 List and receive the Angie's List Super Service Award for 9 consecutive years.
Owning a Sir Grout franchise is like owning five franchises for the price of one. This has represented a significant advantage for Sir Grout's franchise owners, increasing the market share through the different services offered.
Does an award-winning franchise that offers five franchises for the price of one, ranks in Entrepreneur magazine's Franchise 500 List, and has increased its revenue by 2,000% sound like a franchise you would like to invest in? To learn more about Sir Grout's franchises, contact our
franchise specialists
.
If you found this article helpful, let us know in the comments section below. Likewise, feel free to share it using the share options in this page. Want us to cover another topic of your interest pertaining to Sir Grout Franchising? If so, then like us and follow us on social media, and post to any of our social media profiles the topic you'd like us to discuss:
Facebook Sir Grout Franchising
,
Instagram @SGFranchising
, and
Twitter @SGFranchising
.