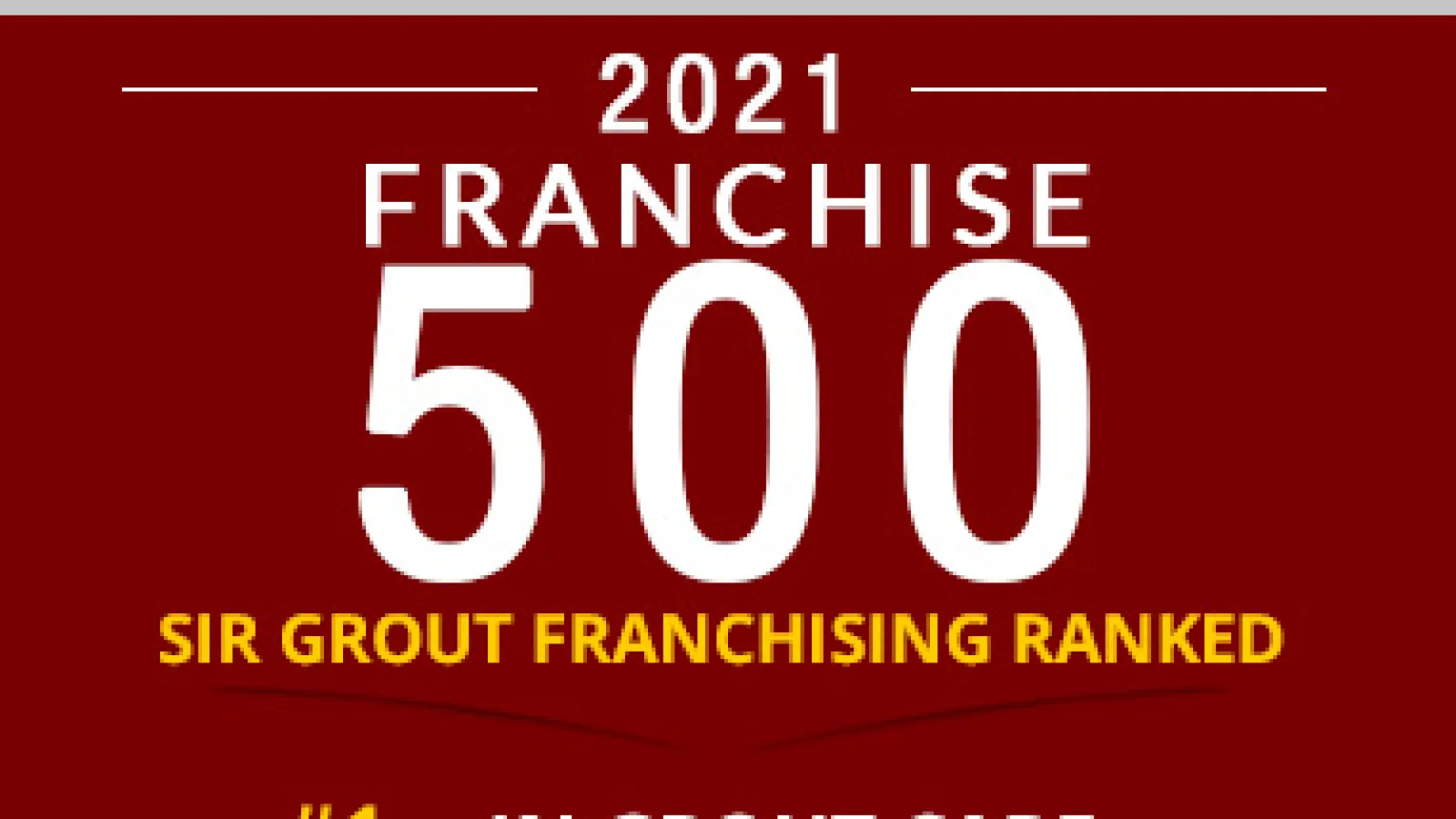 Sir Grout Ranks No. 1 in Grout Care on Entrepreneur Magazine's Coveted Franchise 500 List
The prestigious list recognizes the top 500 American franchising companies.
ATLANTA, GA - (02/03/2021 6:00 AM EST) - Sir Grout, an acclaimed hard surface restoration franchise, is proud to announce that it has ranked No. 1 in the Grout Care category of Entrepreneur Magazine's coveted
Franchise 500® list
. Released annually, the esteemed list recognizes the top 500 franchising companies in America, ranking companies based on five pillars, including cost and fees, size and growth, support, brand strength, and financial strength and stability.
Sir Grout's 2021 ranking marks the 10th time that the company has been recognized on this list, which is widely regarded as a go-to source for business owners looking to invest in the nation's top franchise opportunities. In addition to its No. 1 ranking in the specialized category of Grout Care, the company ranked No. 283 on the overall list of 500 franchises, which is up 99 spots from the prior year.
"We are honored to be recognized as the best of the best in grout care on Entrepreneur's Franchise 500 List," said Jeff Gill, Co-Founder of Sir Grout. "We've spent many years continuing to innovate and perfect Sir Grout's business model to present business owners with the best opportunity for success. It's truly an honor to have our hard work recognized for a 10th time by one of the most renowned business publications in the world."
Sir Grout was founded in 2004 by Jeff Gill and Tom Lindberg, seasoned business leaders with a proven track record in sales training, personnel development, business development and marketing. The company attributes its 15 years of success to its solid business model, continued product innovation, incredible customer satisfaction rate, low start-up costs, high return on investment, extensive training and proven traditional and digital marketing strategies. The company has one of the highest franchise retention rates in the industry at 94% over the past 15 years. Sir Grout also has a proven track record of having one of the highest returns on investment in the home service industry.
Despite the many challenges faced by businesses in 2020, Sir Grout continued to forge ahead, solidifying its standing as a leader in the hard-surface restoration industry. Continuing to adapt and innovate to meet the evolving needs of its customers and franchise owners amid the pandemic, Sir Grout pivoted and launched a Virtual Estimate Program in May of last year, allowing the company to schedule virtual appointments and provide quotes via FaceTime, Google Duo or Zoom Video.
"There's no denying that this past year has been tumultuous for business owners across the country as we continue to navigate the pandemic," said Tom Lindberg, Co-Founder of Sir Grout. "Sir Grout's positioning as the best in grout care on Entrepreneur's Franchise 500 List is a true testament to the strength and opportunities that a Sir Grout franchise presents to prospective business owners. We've developed a nearly recession-proof business model, overcoming and triumphing through the great recession in 2007 and the current global pandemic. Let us be clear though, it was our franchise owners who executed on our model, and we salute them for driving the results and customer satisfaction that helped propel us up 99 spots on this coveted list."
A core benefit of owning a Sir Grout franchise is it essentially provides owners with access to five separate franchises for the price of one. The company specializes in grout and tile restoration, stone restoration, wood floor no sanding restoration, slip resistant applications and high durability coatings—all within one single franchise. Another very desirable feature is the business is home based, which significantly lowers overhead costs while increasing one's quality of work/life balance.
Before opening a Sir Grout Franchise, franchisees receive world-class training and support from the company's founders, which is broken down into three categories: approximately 20 hours of comprehensive technical training; 20 hours of sales and operations training, where franchisees learn Sir Grout's proprietary sales methodology, software system and all the tools necessary to run a successful franchise; and 45 hours of stone training. In addition to extensive training, the company also offers All-In-One digital marketing support and an in-house business center that will take care of answering calls and setting appointments so owners can focus on running their business.
In addition to the Entrepreneur Magazine listing, Sir Grout has received numerous accolades from Yelp, Home Advisor and Angie's List Super Service Awards, reserved for businesses that maintain an "A" rating from consumers.
Sir Grout is always looking for creative self-starters that desire both financial and personal independence.
Interested in becoming a franchisee and joining Sir Grout's big family? Contact a franchise specialist by filling out the form below to learn more.