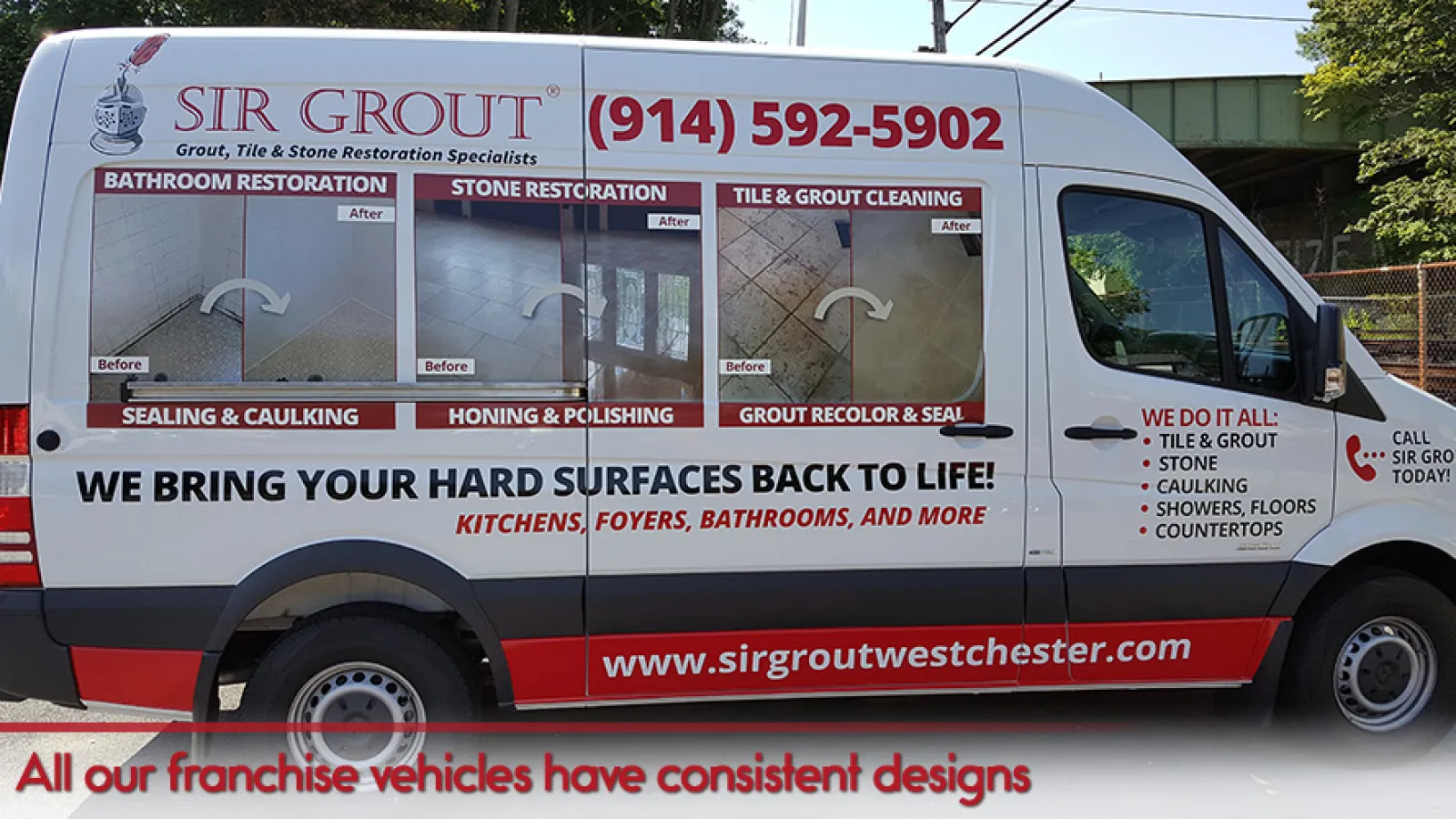 How to Develop a Successful Franchise Brand Like Sir Grout
Owning a successful franchise requires time, investment, energy, and resources. The same is true about creating brands that are capable of uniting franchisees who have very different approaches to running a business. That means you need to have a consistent brand identity, share the vision and mission of your brand, and make sure it is bolstered by product knowledge and excellent customer service.
Currently, Sir Grout has over 39 franchises in the United States and one in Singapore. Only 12 years after it was founded and nine years after it became a franchise, Sir Grout has achieved remarkable success. But how has it managed to achieve such great results so quickly? Sir Grout has established itself as a brand, and it owes its success to five key ingredients.
A Consistent Brand Identity
A consistent brand identity goes beyond your logo and visual tool kits. It means that store layouts, architecture, uniforms, and the way the business is managed will be the same across all franchises. A consistent brand identity reassures customers that no matter the location or the owner, their experience will be the same.
If you go to any of the
Sir Grout websites
, you will see that their brand is consistent. They share the same image, same messages, and offer specific hard surface restoration services. A Sir Grout client in Arizona will have the same experience as a client in Washington DC or Singapore.
A Shared Vision and Mission
It is important for franchisees to actively embrace the brand, understand what it represents, what its objectives are, how it will support their business, and what they must do to achieve their desired results. Therefore, your brand must speak to your core values.
Both Jeff Gill and Tom Lindberg, founders of Sir Grout, are very passionate about their business, and they have managed to instill their franchisees with that same passion. One of the ways that they have managed to do this is by selecting the right candidates. They look for people with business experience who understand what it takes to run a business and who have people and sales skills. They also offer a support system.
You can see what Sir Grout's franchisees have to say about their experience of owning a Sir Grout franchise via our
testimonials section
.
Market and Product Knowledge
The only way to find out about a franchise's market and learn all the information you need to run a successful business is through training. The franchise must provide adequate training, operation manuals, a support system to train its staff, a good incentive system, and the tools franchisees need to operate the business and meet standards.
Sir Grout offers a great training system that will teach you everything you need to know to run a successful Sir Grout franchise, including the ins and outs of grout and tile restoration, stone restoration, and sales operations.
The company also offers an online learning and support system, including phone support seven days a week. All the training information, latest news, and marketing pieces are available online to every franchise owner. Sir Grout also relies on a business center that manages your phone calls, schedules your appointments, and helps you increase sales.
Great Customer Service
Customer service is the bedrock of your franchise. It costs six times more to attract a new customer than it does to keep an existing one. Customers are the way businesses make money, so the more satisfied they are, the more money the franchise and its staff will make.
Sir Grout knows how valuable customers are and offers them unique services that go beyond calls, appointments, and follow-ups. When Sir Grout's team arrives at each location, they assess their customers' needs and even offer them tips to keep their hard surfaces looking new. The result is hundreds of satisfied customers who regularly send us their positive
reviews
:
Sir Grout's reputation for exceptional customer service is so strong that many of its franchises have earned
Angie's List's top recognition for customer service
.
Investing in Your Franchise Brand
Franchises promote their brand to their target audience. This ensures a regular flow of clients, which will help the franchise reach the monthly target needed to run a profitable business. How do you promote a brand effectively? First, you need a strong physical presence to make your target audience aware of your business. Advertising in traditional media can become a great investment if your consumer base is mainly exposed to media like newspapers, magazines, radio, or billboards.
However, today's digital world demands more than traditional print marketing to make a business noticeable. Technology has provided entrepreneurs with great tools to make a brand stand out. Given that most consumers search for products and services online and on mobile devices, the smartest companies build their advertising strategy around consumers' online behavior, aiming for better rankings on the internet. Having a responsive website that is compatible with any device, strong social media relationships, and smart digital marketing strategies are essential parts of positioning a brand.
Sir Grout is supported by
All-in-one Digital Marketing Technology
provided by WebFindYou, along with their powerful monthly digital marketing services - see the full
Sir Grout case study
. WebFindYou has made Sir Grout a clear example of how effective internet marketing and SEO strategies can help a national business build a strong, integrated identity online both nationally and locally. Sir Grout's websites, social media, email marketing, online reviews and reputation management, and digital marketing tools work together like a well-oiled machine thanks to the WebFindYou techology, which has given Sir Grout great results.
You can be part of this successful franchise today and enjoy all the benefits right away. Get all the information you need by filling our "Speak to Us About Franchising" form found on this page. Don't miss the chance to grow with a solid company that continues to grow in revenues every year.
If you found this article helpful, let us know in the comments section below. Likewise, feel free to share it using the share options in this page. Want us to cover another topic of your interest pertaining to Sir Grout Franchising? If so, then like us and follow us on social media, and post to any of our social media profiles the topic you'd like us to discuss:
Facebook Sir Grout Franchising
,
Instagram @SGFranchising
, and
Twitter @SGFranchising
.